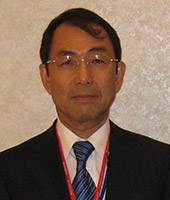 It is our great pleasure to have you in the 13th Annual Meeting of the East Asian Society of Endourology (EASE2016) held at Congrès Convention Center in Osaka, Japan from November 19th and 20th, 2016. EASE2016 is held in conjunction with the 30th Congress of Japanese Society of Endourology (JSE2016) which is held from November 17th and 19th, 2016 at the same venue. Those who will participate to EASE2016 are able to participate to JSE2016 meeting without any extra registration fee.

On the first day of the meeting, we will have the Proctor Teaching Seminar for Robot-Assisted Surgery in the early evening. We have started Proctor Teaching System of Robot-Assisted Urological Surgery in 2014 in Japan for safe spread of the procedure, and have a Proctor Teaching Seminar every year. After the seminar, Welcome Reception at the Suntory Bar Area in the same building is scheduled. Please join in and enjoy it with us and also enjoy the gorgeous and exiting Osaka night in the city after Welcome reception.
On the second day, four Plenary Sessions and a Non-moderated Poster Session are scheduled.
The titles of four plenary sessions are PL I: Stone Management (PCNL), PL II: Stone Management (f-TUL), PL III: Reduced Port Surgery for the Kidney & Adrenal Gland, and PL IV: Laparoscopic/Robot-Assisted Partial Nephrectomy. Each session has 3 or 4 speakers from 6 countries/regions in 75 min. During 2 hours' lunchtime break, all of you can enjoy the daytime Osaka city because so many exiting spots exist in a walking distance from the venue. The meeting will be over 3:15 pm.

We are very much looking forward to meeting you at Osaka in the mid November in EASE2016.
Toshiro Terachi
President of EASE2016
President of Japanese Society of Endourology
Professor & Chairman, Department of Urology
Head of Robot-Assisted Surgery Center
Tokai University School of Medicine